KURUKSHETRA
: The culture and traditions of a country are its solid formulation. A country that has a diverse culture and respect for rich traditions can never go down. India is a country that has a great diversity of culture and ancient tradition and the state of Haryana is among the states that have well preserved their past and culture. Governor of Haryana and chancellor of Kurukshetra University (KU) said this while inaugurating as chief guest the four-day Haryana Day Ratnawali state level festival at KU auditorium on Friday.
The Governor appreciated the efforts of KU in preserving and disseminating the culture of Haryana through Ratnawali which started with a humble beginning of 300 artists but has now taken big shape with 32 events and more than 3000 students and artists from all over the state are participating in the festival.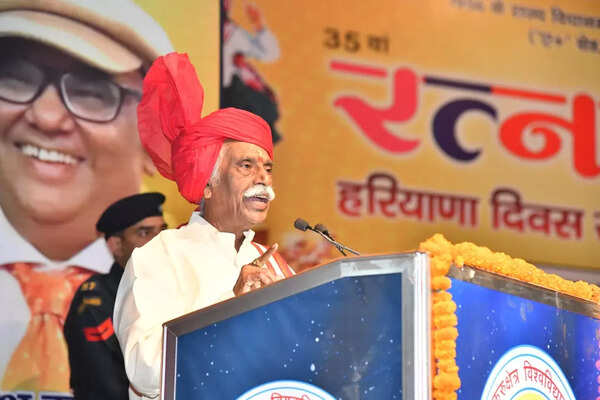 Governor of Haryana and chancellor of Kurukshetra University Bandaru Dattatreya
Governor congratulated KU vice-chancellor Prof Som Nath Sachdeva and the artists from different districts of the state. It is good to see that the young generation is moving away from the western culture and moving towards the Haryanvi culture. This festival is also making the younger generation inculcate moral values. He said that Haryana has made a new mark in the matter of economic development, law and order and good governance. The state ranks first in the field of agriculture, education, security, service, health, good governance, sports, auto production. Unprecedented progress has been made in the field of education. It is even more special that all our universities in Haryana are ready to fully implement the National Education Policy (NEP) by 2025. He congratulated KU for implementing NEP 2020 from session 2022-2023. He said that today women have come a long way in all other fields including folk culture, education, sports. The women of this state have achieved success in every field.
During this event, the Governor also gave a message of cyber awareness under 1930 helpline number campaign launched by Kurukshetra police.
Earlier the Governor inaugurated the Haryanvi folk art exhibition in the premises of KU auditorium and also released the poster of KU and Ratnawali bulletin prepared by the KU Institute of Mass Communication and Media Technology.
Guest of honour, famous Bollywood film actor and director Satish Kaushik praised the new film policy made by the efforts of chief minister Manohar Lal and said that a provision of subsidy has been made for making Haryanvi films through this policy. With this, the Haryanvi cinema will reach new heights. He said that he will extend all kinds of support to the budding artists of KU and the State of Haryana.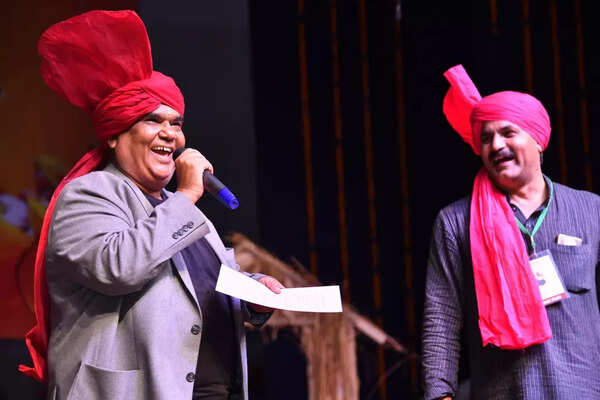 Bollywood film actor and director Satish Kaushik
KU VC Prof Sachdeva said KU has been organizing Ratnawali festival for the last many years. Young artists from all over the state are participating in this cultural Mahakumbh. This cultural festival of KU has played an important role in preserving the rich cultural heritage of Haryana state.
Maha Singh Poonia, director, youth and cultural affairs department while expressing his gratitude to the guests said that the festival has saved many art forms of Haryana from getting extinct. He said that the Loor dance of Haryana has been recently revived by KU.
On this occasion, Kurukshetra MP Nayab Singh Saini, Thanesar MLA Subhash Sudha, deputy commissioner Shantanu Sharma, superintendent of police Surender Singh Bhoria, KU Registrar Sanjeev Sharma, and other key officials were present.