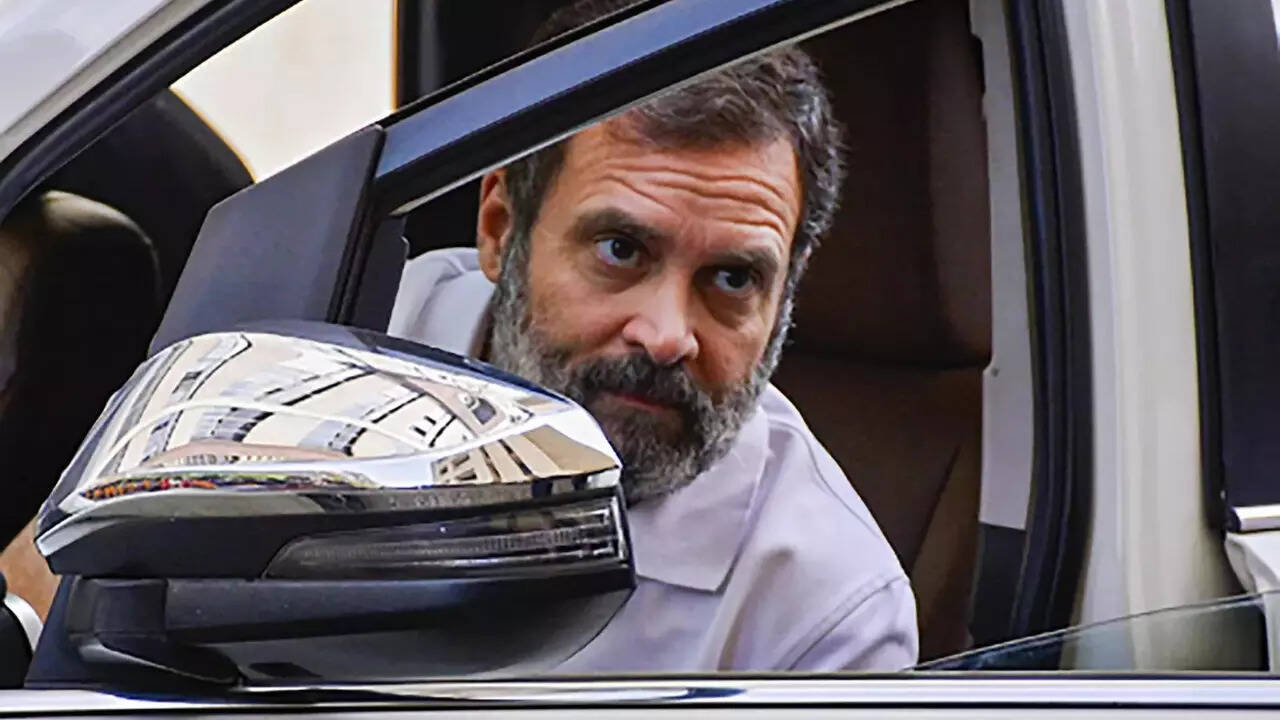 NEW DELHI:
Rahul Gandhi
may face an uphill task to convince a constitutional court to quash his conviction in a criminal defamation case but may get a milder sentence which would save him from being disqualified from LS. Courts have traditionally raised the bar in defamation cases with regard to speeches made during political campaign.
First the uphill task. The Supreme Court has consistently warded off challenges to the validity of Section 499 (criminal defamation) and Section 500 (punishment), using which the Surat court on Thursday convicted Rahul and sentenced him to 2 years' imprisonment, the maximum provided for and because of which he could incur disqualification.
In 2015, as many as 25 writ petitions were filed by various persons, including Subramanian Swamy, Rahul Gandhi, Arvind Kejriwal and Rajdeep Sardesai, challenging the constitutional validity of Section 499 and 500 of IPC, saying it was being used to stifle dissent and curb free speech.
They were turned down by the SC, which in its 2016 judgment, had relied mainly on arguments advanced by senior advocate A M Singhvi that it "it is fallacious to argue that defamation under Article 19(2) covers only civil defamation when at the time of the enactment of the Constitution, Section 499 IPC was the only provision that defined defamation and had acquired settled judicial meaning as it had been on the statute book for more than 90 years".
"Sections 499 and 500 of IPC continue to serve a public purpose by defining a public wrong so as to protect the larger interests of society by providing reasonable restrictions under Article 19(2). It is incorrect to suggest that the purpose, logic and rationale of criminal defamation no longer subsists in the modern age, and the law having served its goal, it must be struck down…," he had said.
On January 3 this year, a 5-judge Constitution bench ruled that the right to free speech is not unfettered and that defamation was rightly put as one of the restrictions under Article 19(2).
However, Gandhi can draw comfort from the October 17, 2022 judgment of the SC in the Manoj Tiwari vs Manish Sisodia case, where BJP leaders Tiwari and Vijender Gupta had challenged summons issued to them by a Delhi court in a criminal defamation case filed by the former Delhi deputy CM. The court had differentiated the statements made by Tiwari and Gupta. While Tiwari had made a specific Rs 2,000 crore corruption allegation against Sisodia, Gupta had merely said he would expose the scam.
Quashing the case against Gupta, the SC had said, "We are afraid that even if a person belonging to a political party had challenged a person holding public office by stating 'I will expose your scam', the same may not amount to defamation. Defamatory statement should be specific and not very vague and general. The essential ingredient of Section 499 is that the imputation made by the accused should have the potential to harm the reputation of the person against whom the imputation is made."
Before the Gujarat HC or SC, Gandhi could argue that his statement — "How come all the thieves have Modi as the common surname?" — was generic and not targeted at any individual and that it was meant to highlight how scamsters had slipped out of the country. The plea questioning the jurisdiction of Surat court may not hold much water as the IPC or CrPC do not stipulate jurisdictional limitations.