NOIDA/GHAZIABAD: For the first time this season, the air quality in Noida, Greater Noida and Ghaziabad has remained 'very poor' for two consecutive days on Thursday and Friday due to meteorological factors and the effects of farm fires.
The situation is similar in Gurgaon and Delhi. Forecast showed the overall AQI would stay 'very poor' in Delhi-NCR over the next few days.
Track the pollution level in your city
The air quality in Ghaziabad turned 'very poor' for the first time this season on October 22, when it recorded an AQI of 312, but it improved the next day. Meanwhile, Noida recorded 'very poor' AQI (305) for the first time on October 24, the day of Diwali celebrations, but high-speed wind improved the situation the next day.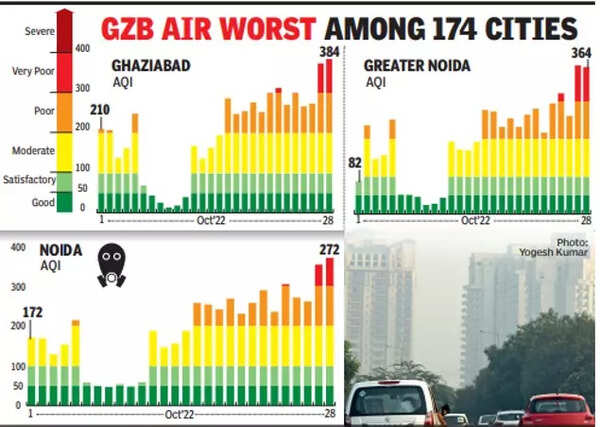 On Thursday, the AQI was 373 in Ghaziabad, 368 in Greater Noida and 354 in Noida, with Ghaziabad seeing the worst air among 174 cities. The trend continued on Friday as Ghaziabad recorded an AQI of 384 and stayed the worst air city, followed by Noida, where the AQI stayed 'very poor' but deteriorated to 371. Greater Noida recorded an AQI of 364 and came fourth on the list. Bihar's Samastipur came third with an AQI of 366. Delhi and Gurgaon recorded an AQI of 357 and 333, respectively.
According to the System of Air Quality and Weather Forecasting and Research (SAFAR), local surface winds will blow at a speed of six to eight km/hr for the next three days, which will cause weak dispersion of pollutants. "Strong winds at transport level, blowing from the northwest direction — stubble burning areas, are likely to transport pollutants to Delhi-NCR, and its share in the PM 2.5 levels may increase further. Air quality is likely to deteriorate but remain 'very poor' for the next three days," a SAFAR official said.
The Commission for Air Quality Management (CAQM) issued a fresh direction on Friday to all stakeholders in Delhi-NCR—the state government, urban local bodies, industrial units, commercial establishments, and building agencies—about the preventive, mitigative and restrictive actions required under the Graded Response Action Plan (GRAP). The CAQM standard approved fuel list for Delhi-NCR has banned using polluting fuels like coal, furnace oil, etc., but permits biomass fuels with stricter emission norms. The commission, jointly with the state governments, has also launched a drive for shifting all industries to cleaner fuels.
UP-NCR has 2,273 industries; 1,786 have shifted to approved fuels, while 487 have not. Haryana-NCR has 2,988; 2718 are now using approved fuels, while 270 are not. Similarly, Rajasthan-NCR has 525 industries, with 422 having shifted to approved fuels. All 1,784 industrial units in Delhi are using approved fuels.
The commission has also intensified incognito field inspections by flying squads for better enforcement and monitoring compliance with all relevant statutes and guidelines. It has urged all stakeholders to comply with and follow statutory directions to avoid closure notices and/or penal action.
Meanwhile, Brajesh Sharma, a resident of Antriksh Golf View 2, Sector 78, said that recently, residents have mostly been keeping their flat doors and windows closed. "We are experiencing breathing problems and itching in the eyes. We have started wearing masks outdoors," he said.
PP Singh, the assistant environment engineer with UPPCB Noida, said the department is currently conducting an enforcement drive. "On Friday, we issued total fines of Rs 13.5 lakh to nine contractors for violations of construction norms," he said.